Topic: WBSEDCL Bill Payment App In 2021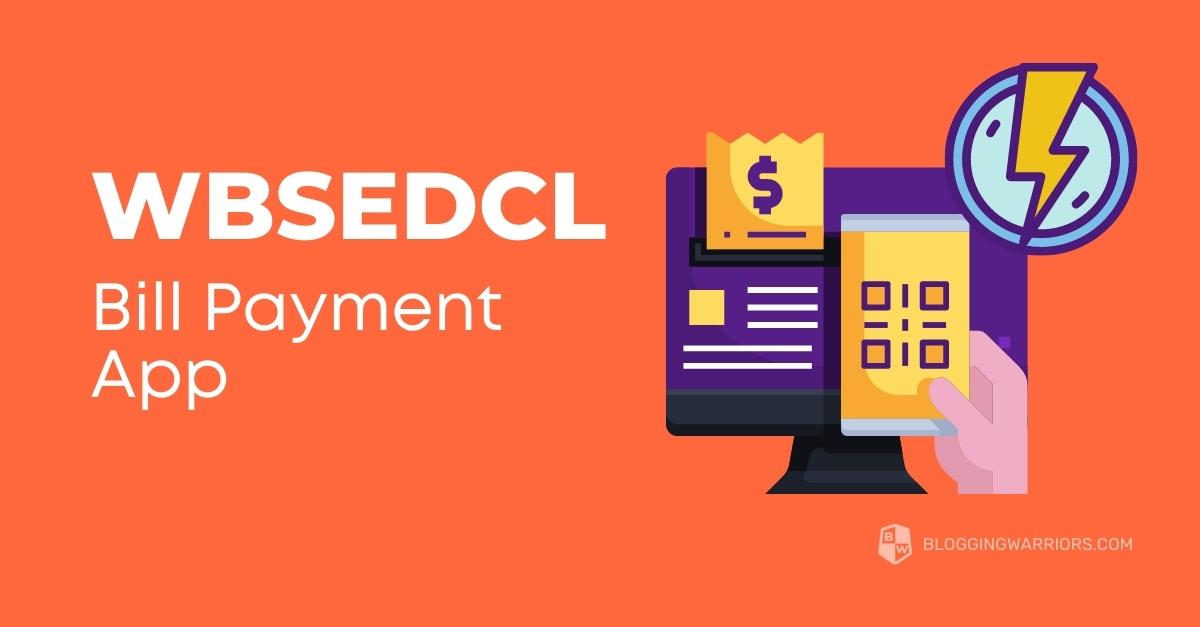 Don't you know how to make WBSEB Bill payment online? And want to know Which is the Best WBSEDCL bill payment app for you?
There are thousands of websites and apps online to pay the electricity bill, but few of that are trusted and give you the benefit to earn cash back into your wallet.
Today we share with you the detailed process of online WBSEB bill payment and the WBSEDCL Bill payment apps, which gives you assured cashback with safe banking.
That means now you can get assured cashback on your WESEB Bill payment. Isn't it great?
Don't worry! Now you can pay your bill with your Debit card, and all the payment transactions are safe here.
WBSEB Bill Payment App Online
Here we give you the lists of Online WBSEB bill payment sites where you can pay your bill through their website.
1. Talkcharge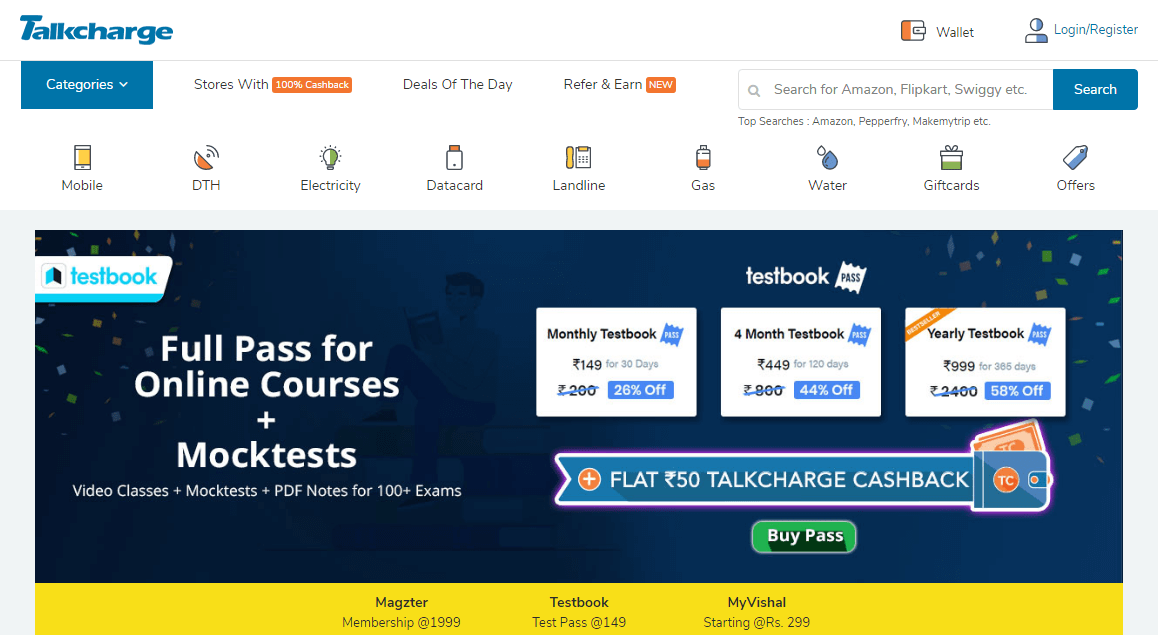 Talkcharge (Referral link) is an online bill payment website of Mobile, DTH, Electricity, Datacard, Landline, Gas, Water. Also, you can do shopping from multiple big brand company's websites like Flipkart, Amazon, Myntra, Make my trip, Big Basket, etc. in one roof with great deals. This website provides you with the cashback coupon option on every purchase.
Find also Store with 100% cashback, Deals of the day option which helps you to save more money of yours.
You can also check the Offers page to know on which bill payment you will get cashback and what is the terms and conditions.
Steps of WBSEB bill payment by Talkcharge are:
Step 1: Register your Mobile Number
Go to with our referral link and Enter your Full Name, Email Address, Mobile Number, Password to register yourself.
Step 2: Login to your Account
Now login with your Mobile no. or Email address and then they send you an OTP to your registered mobile no. Just enter the OTP and Click on submit OTP button.
Step 3: Click on Electricity Tab
Now select your Electricity Provider from the dropdown menu, then enter your Customer ID (it is provided in your bill) and click on Continue.
Cons: You can't do monthly WBSEB bill payment online with Talkcharge.
Affiliate Info
This is a referral link, no need to pay any amount to us. We just collect a share of sales or other compensation from the links on this page. Thank you if you use our links, we really appreciate it.
The Talkcharge can be regarded as a WBSEDCL bill payment app.
2. WBSEDCL Online Bill Payment (Official Website) Process 2021
WBSEDCL (West Bengal State Electricity Distribution Company Limited) is an official website from the Government of West Bengal Enterprise. Only West Bengal consumers (except Kolkata/Calcutta consumers) can pay the Electricity bill from this website.
Registration

for WBSEDCL Online Bill Payment
Step 1: Go to the WBSEDCL website and Click on Registration (if you are a new user otherwise click on Consumer Login)
Step 2: User Registration Form

After Click on Registration a new window open
Now enter your Consumer Id and Click on Continue
Then enter the Installation No. (No./Type) and click on Continue

Enter your Mobile no. and click on Send OTP
After receiving the OTP on your mobile, enter that OTP on that website
Then click on Submit

After that, they ask you to submit your Email Address to send an OTP and after receiving the OTP, paste it on the "Provide OTP" box then click on Submit.
Step 3: Submit User Details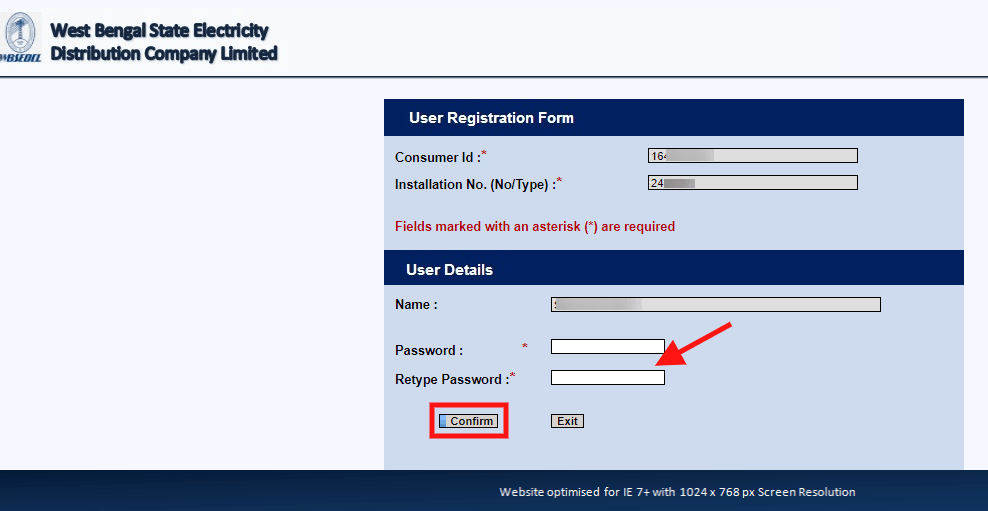 Now type a password (it should be One Capital letter, one special character, and one numeric for example-

Password@123

) and again retype your password which you provided before.
Then click on Continue
A confirmation mail has sent to your provided mail address, after doing the above process.
Now go to the WBSEDCL Login page.
Login

for WBSEDCL Online Bill Payment

Enter your Username (enter your Consumer ID)
Enter your Password
Then Click on Login button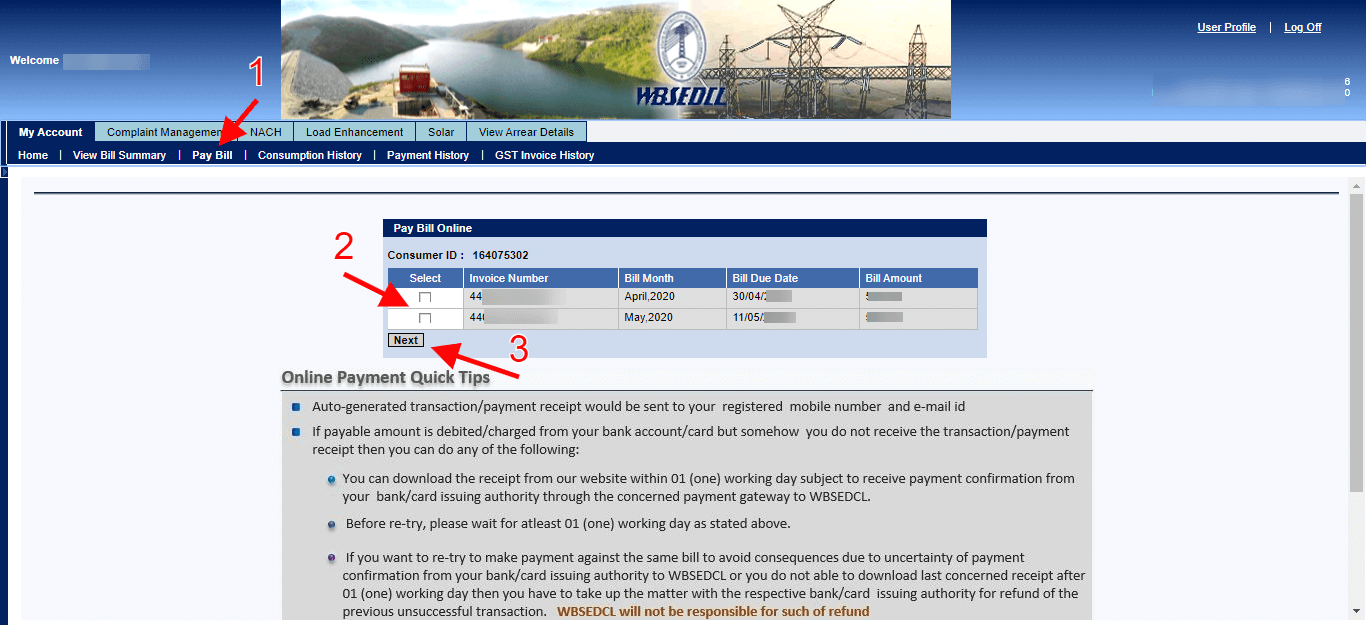 After login to your account, click on Pay Bill option
Now select the month which you want to pay (you can pay monthly or you can pay at a time three months)
Then click on Next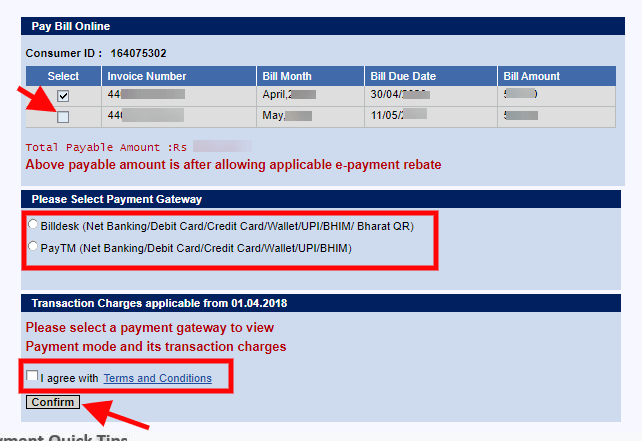 After selecting your billing period, select the Payment gateway (We recommend you to select the Billdesk option)
Tick on "I agree with Terms and Condition"
Then click on Confirm
After clicking on the Confirm button, a popup will show you that "Proceed to payment gateway", click on OK to confirm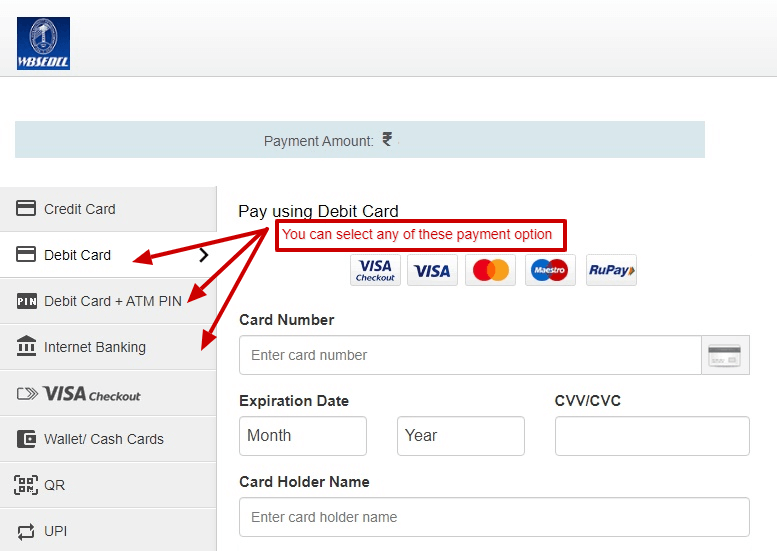 Here you can make WBSEDCL bill payment by Debit Card, WBSEDCL bill payment by net banking or you can choose the Debit card + ATM PIN option for WBSEB bill payment.
Fill all the details and Click on Make Payment Button below.
After making a successful payment, You can WBSEDCL online bill payment receipt copy download on you PC.
WBSEDCL Bill Payment Receipt:

Duplicate Bill
If you forgot to download the receipt copy of your payment at that time, you can also download the WBSEDCL Duplicate Bill payment receipt copy later. See the below step and know how to?
Login to your Account, then click on Payment History
Under Payment History, you can find all your WBSEB bill payment details from past to till date.
Now click on View button and download the PDF File or you can print it out for your future reference.
WBSEDCL Online Bill Payment:

Quick Pay
If you don't want to login to your account and want to pay the WBSEDCL bill then you can select the option Quick pay.
This is the quickest way to WBSEB bill payment online. Now the question arises in mind that how to pay?
Steps of payment are very easy, you can do it within a minute. Let's see the steps.
Go with this Quick Pay link for WBSEB bill payment
Here enter your Consumer ID then fill up the Captcha text below and click on Proceed.
After that, you will see the Consumer Name, Email address, and your mobile number (if you already registered, if not then register first).
Then click on View Unpaid Bill.
After that, the payment procedure is the same.
They have their own WBSEDCL bill payment app called Vidyut Sahayogi. You can also do WBSEB bill payment by this app.
3. Freecharge
Freecharge also has the facility to pay the WBSEB bill online through their website as well as you can consider this Freecharge app to be the Best WBSEDCL Bill payment app.
You can also save money by paying any bill or any transactions. Just read the offers option carefully before doing any payment or transaction.
Recharge your Mobile Number (Postpaid/ Prepaid) of Airtel, Vodafone, BSNL, TATA Docomo GSM/ CDMA, Idea, MTNL- Delhi/ Mumbai, Jio.
Pay Electricity Bill such as WBSEB Bill payment, Reliance Energy, NBPDCL & SBPDCL, etc.
Recharge your DTH connection of Airtel, Reliance Big TV, Dish TV, Tata Sky, Sun Direct, Videocon D2H.
You can also pay the Gas & Water bill.
Process of WBSEB bill Payment online by Freecharge:
Step 1: Go to Freecharge Login page (Look in the corner at the top of your right)
Step 2: Now a popup will come and there enter your Mobile No. or Email Address then click on Proceed or you can register with your Gmail / Facebook account.
Step 3: After login to your account they ask you to update your KYC (by Driving Licence/ Voter card/ Passport) with Freecharge, if you don't update it, you are not eligible for any cashback.
Step 4: After updating your KYC, go to the Electricity tab > Select your State > Select Electricity Provider > Click on Proceed and quickly pay your WBSEB bill.
Cons: Not to do monthly WBSEB bill payment with this Freecharge online or by an app.
Read more: Watch JioTV live on Your Windows PC or Laptop
4. Paytm- WBSEDCL Bill Payment App / Online
Paytm is one of the most popular and trusted WBSEDC bill payment app among users. There are 100,000,000+ active installs across in India.
You can do a money transfer, bill payments, recharges, and also you can book flight tickets, hotels, train tickets, movie tickets, etc. by Paytm website or by Paytm app with your Debit card, Credit card or you can pay from your Paytm wallet.
Most important is, you can get cashback on every transaction or purchase.
You must update your KYC with Paytm before doing any transaction or payment; otherwise, you can't eligible for Cashback.
Pros: Paytm is the best WBSEDCL bill payment app. You can do monthly and quarterly WBSEDCL bill payment by Paytm.
Best WBSEDCL Bill Payment App 2021:
We share with you the best WBSEDCL bill payment app which helps you to pay the WBSEB bill by your phone.
1. PhonePe
According to our survey, PhonePe is a very trusted app to do the WBSEB bill payment. You can pay your electricity bill with this app. Consider being the best WBSEDCL bill payment app in West Bengal.
For the first time, the user can earn cashback from various transactions like
Bill payment,
Online Fund Transfer,
Credit Card Bill Payment,
Postpaid bill payment,
Landline,
Broadband bill, etc.,
Recharge your phone, DTH, etc.
Recently PhonePay updates their app and now you can do Monthly WBSEB bill paymentNew as well as Quarterly WBSEDCL bill payment.
Download and Register (referral link) now and get cashback on every transaction.
Must update your KYC before doing any transaction or payment; otherwise, you can't eligible for cashback.
2. Google Pay (Tez)
Google Pay is also a UPI app which gives you cashback opportunity as well as Google security for paying any bills or any money transaction.
Google Pay supports 148 banks all over India such as Axis Bank, HDFC Bank, ICICI Bank, SBI and BHIM UPI, etc.
There are two tabs in this Google Pay app, One is People & bills and another is Business.
Under People & bills tab, you can do Mobile recharge for
Airtel Prepaid,
Jio Prepaid,
Vodafone Prepaid,
Idea Prepaid,
BSNL Prepaid,
MTNL (Mumbai/ Delhi) Prepaid,
Tata Docomo Prepaid,
You can do Bill Payments for
Electricity (WBSEDC Bill payment),
Postpaid mobile,
DTH/ Cable TV,
FASTag Recharge,
Landline, Broadband,
Piped Gas,
Water,
Insurance,
Loan Repayment,
LPG Cylinder Booking, and
PMC Property Tax.
Also transfer money to other bank accounts, to a phone number, to UPI ID or QR, or you can do a self bank transfer.
Under the Business tab, You can do lots more business payment like you can pay a donation, you can pay for food order, Commute, Travell, Grocery, shopping, lifestyle, and much more.
Cons: Not to do monthly WBSEDCL bill payment with this Google Pay app.
Affiliate Info
This is a referral link, no need to pay any amount to us. We just collect a share of sales or other compensation from the links on this page. Thank you if you use our links, we really appreciate it.
Conclusion
In Conclusion, we just want to say that we mentioned the best methods to do the WBSEB bill payment online and the best WBSEDCL bill payment app for paying the electricity bill.
The above-mentioned apps or online process is very secured and most of the people in India now save their time as well as their money.
If you still have any doubts in your mind, then please let us know in the comment box below. We will be delighted 😃 to help you.
Till then bye 🖐 to all. Before you leave our site, we request you that if you like our article, please share it with your friends and subscribe to our newsletter too.